The below is a portable electric power generator for gas stove or wood Stowe Heater or any other heat sources (oven, gas stove, wood stove, etc) to generate the electricity for charging the battery, and power electronic with 12VDC and 4,5VDC outputs. The generator comes with a self-powered fan to dissipate the heat. When the hot plate of the generator is heated to 380C, the output power will go over 24,5 watts. The generator start work at is good for running on 330-450C heat source surface. It is not onlz a power generator, but also a help circulates te heat with its attached fan.
Th eunit is, light in weight, small in size, easy to carry, especialy suitable for field or emergency circumstances, as all kind of small communications and emergency lighting power suply.
| | |
| --- | --- |
| Put the generator on top of the heater to generate free electricity | The 30w generator comes with the wire for outputs: 12VDC car lighter adapter, 4,5V USB, and 13.8V for deep battery charger |
model
TG - 30-12V

Output power
30w
Output Voltage (the car cigarette lighter adapter)
12V
Output voltage from charger
>13VDC
Maximum hot surface temperature
450 C
dimension size
220x220x104mm
weight
5 kg
How to use: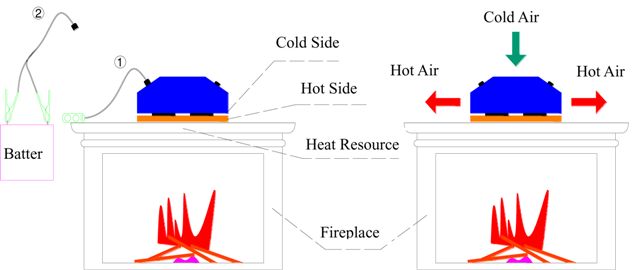 1) the plug 1 gives the output of 12VDC from cigarette lighter socket and 5VDCfrom its USB port
2) the plug 2 gives over 13VDC for battery charging
It circulates the hot air for large area heating and save energy
.
Instructions for use:
Put the generator on the heat source surface. About 30 seconds later, the cooling fan of the generator starts running. Wait for 5 minutes till the cooling fan running at full speed. Then you can add the load on the generator
Notes:

1) The casing will become a bit hot after a while. Do not touch the generator casing.
2) 30 seconds after the generator is placed on the heat source surface, please check if the fans start to rotate. If zou do not see the fan starts to blow the air, please take out generatorto check. To remove, please use the hanger on the top of generator.
3) Generator can operate at temperature up to 450C heat source surface.